When playing harmonica which notes you play are of couse important but how you play them is just as important. In previous articles I have described techniques such as tongue slap and pull slaps which are ways of presenting the notes differently from the simplest form of presentation. In this article I will introduce dirty notes which is a technique that can be used by both tongue blocking and puckering players.
Short definition
Dirty notes are simply notes that are colored by another note which is not the pitch you intend to play. This gives it a grittier, dirty feeling that works very well for blues. If you think that a riff sounds too clean, then this technique may be just what you are looking for.
How to create dirty notes
The principle behind dirty notes is very simple. You simply play the note you want to play and widen your mouth ever so slightly to let a little bit, maybe 20%, of the upper adjacent hole in. So, if you play hole 4 you widen your mouth to the right and let a little bit of hole 5 in. I like to think that I smile a little with the right side of my mouth. You can use a tongue block trainer to see what goes on.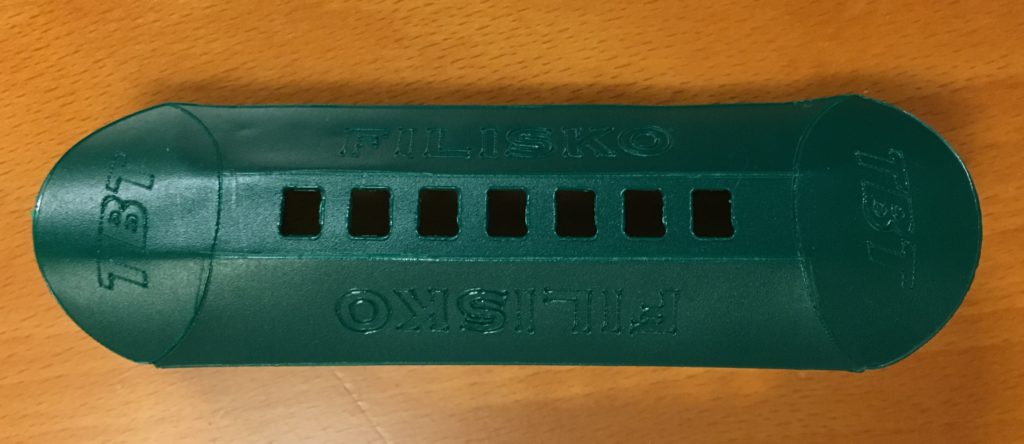 The result should still sound like hole 4 but with a bigger dirtier sound. Remember you are not aiming for a two hole chord, hole 4 must be dominant. Listen below for an example.
How to develop the technique
To develop the technique I suggest you play hole 4 inhale and the very slowly and conciously widen your mouth to the right. When you hear the effect happening, experiment with how much of it you want. Too much will spoil the effect. It should sound dirty, precise and intentional. It is not just sloppy playing, it is a deliberate choice!
When to use
Dirty notes can be used very freely when playing blues, especially when playing something aggresive. To make the effect stronger it is a good idea to play some clean notes every once in a while. Also of you are going for a smooth sound then dial back on the dirty notes.
Now I suggest you try it out for yourself and hear how much bluesier you can sound. Don't forget to sign up below to get the Welcome package and exclusive articles!